Experience the ultimate of getaways!
Mick's Place Bali is situated on top of the cliff overlooking Bingin Beach with 180 degrees of unencumbered Indian Ocean views, boasting some of Indonesia's best views.
The pristine beaches of the area include Bingin, Impossibles, Padang-Padang, Uluwatu, Dreamland and Balangan and are all within a short car/bike ride or walk away.
Mick's Place consists of 7 Polynesian influenced bungalows, all nestled within terraced tropical gardens. Each offers cool trade wind breezes and spectacular views. Expect an ambience of style and simplicity.
At the edge of the cliff, you will find our communal area with an infinity pool and a shady pagoda, all surrounded by sun loungers, hammocks and coconut trees. A perfect setting to relax in, have a drink and witness the incredible lines of swell rolling in from the southern Indian ocean.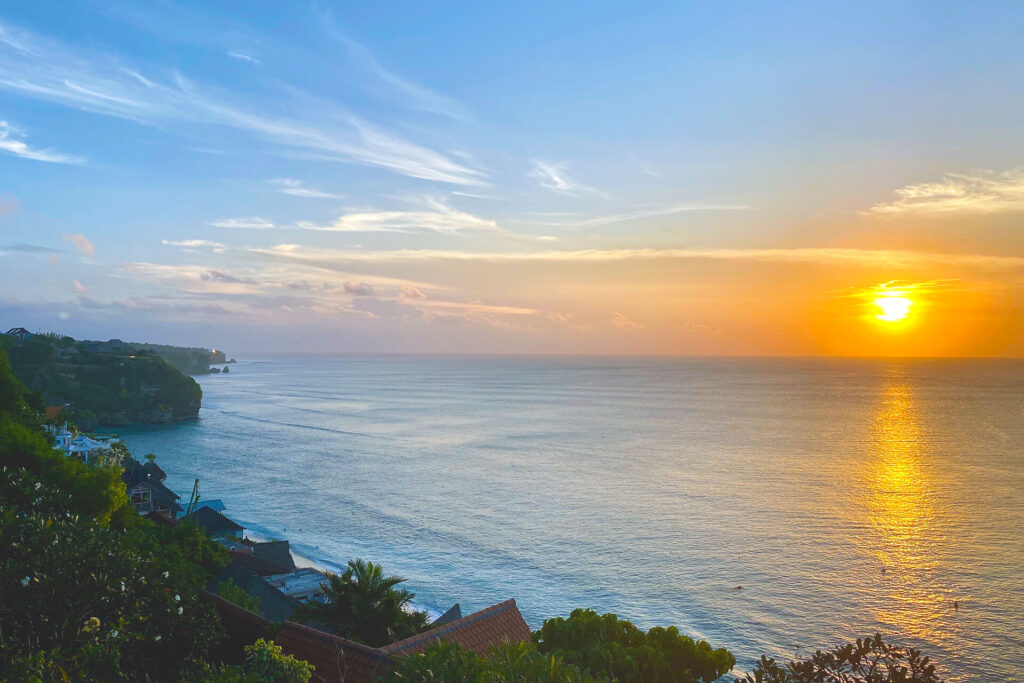 After a day of surfing, basking in the sun or soaking in the pool you will be treated to a brilliant ever changing sunset.
Our kitchen serves a variety of international and Indonesian dishes including vegetarian, vegan and gluten-free options.
Mick's Place is a Boutique Resort for young and old alike
(minimum age 12 years)

Surf and Beaches
Take the stairs down to Bingin Beach, Impossibles or Dreamland for a surf.
We have soft top boards for beginners and surfing lessons can be arranged on request.
If you rather try some snorkeling in the lagoon ask our friendly staff for masks and fins.
To explore other beaches or surf spots in the area motorbikes are also available for rent.
View Bingin live surf cam
Wellness
Our "Bambu Hut Spa" is just 80 meters down the road from Mick's Place offering a wide selection of treatments using quality products, including the popular Biokos facial line, our nourishing virgin cold pressed Coconut oil infused with high quality essential oils for our massages as well as the world famous OPI brand for nail treatments. 
Our little boutique spa consists of 3 beautifully appointed air-conditioned bamboo huts and bookings are best made in advance as it's popular with guests staying in the surrounding area too.
Yoga is available daily in the Bingin area or sessions with a private yoga instructor can be arranged at our charming in-house yoga shala.
Tours and Entertainment
We are happy to organize a driver to take you anywhere around Bali for:
sightseeing
adventurous activities
cultural experiences
shopping
bars and restaurants
The peace-loving Balinese of the Bukit area will enchant you with their traditional ceremonies. Close to Mick's Place lies Pura Luhur Uluwatu – Sea Temple at the south west tip of the peninsula which is a sacred Hindu site that boasts spectacular views. If you're interested in Balinese culture the famous nightly Kecak dance performance by the temple is a must during your stay in the area.

Contact Mick's Place in Bali

Start a New Adventure in Rote
A different way to spend some time in Paradise not only in Bali but now also in Rote Island. Find out more about Mick's Place in Rote!